The above floors consist of Office spaces and an auditorium with capacity of 1000 seats that has been designed with perfect acoustics. The interiors of the building with its terraces and curved walkways are totally integrated with the natural characteristics of the site. This ensures variety and richness in interior spaces with different quality of light. There is an observatory provided in the terrace with separate access for the visitors.
Form:- The building form has been derived from the shape of a leaf with central circular courtyard which enables air circulation to achieve stack effect. The facade with 750mm wide chajja and good quality windows allows for weather protection. The roof shell that will be seen from all over Panjim, has also been designed in a leaf shape as a characteristic feature of the iconic building.

To summarise, the design unites purpose and structure. There is equilibrium and peace in all its components taking into account the climate, site techniques, craft and context.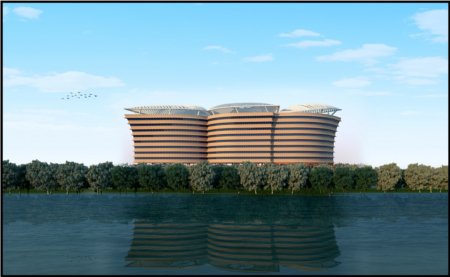 The design is humane and inviting giving a message of good governance and public satisfaction.
The public, semi public and private spaces show how the city works and is a reflection of the Panjim city in the building. The structure is an environmentally sustainable building that includes patios, courtyards and covered walkways. The project ultimately goes beyond the function to connect with the human spirit through poetic and philosophical underpinning.