A.R. SULPHONATE FERTILIZER PLANT, AMBERNATH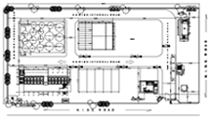 The plant is designed after doing research on fertilizer Plant in Calcutta. In this typical plant raw material is handled and poured by trucks in tons and transferred from one department to another by means of shovel crane.

The structure has to take load of this material. Air pollution is taken care of since lots of powder is generated and blown in the air.